No 14 (2015): Ukrainian Antarctic Journal
Articles
Determination of thе soil-permafrost border in two maritime Antarctic regions on thе base of vertical electric sounding data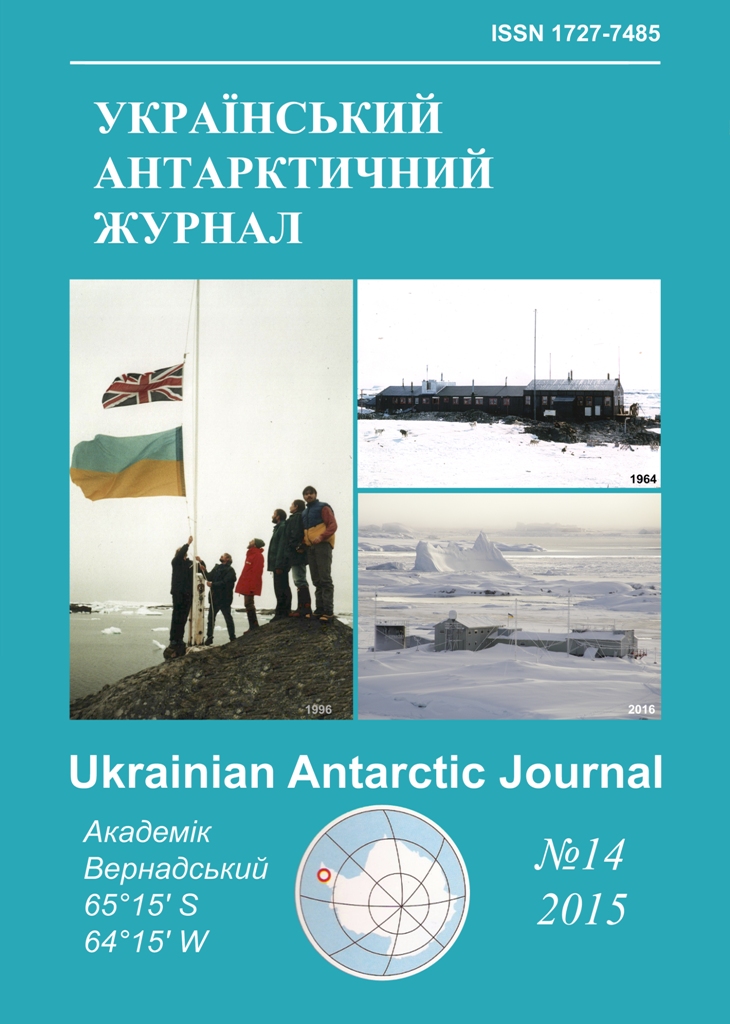 Published
December 31, 2015
Keywords
electric resistivity

,

permafrost

,

soils

,

maritime Antarctica

,

active layer
How to Cite
Abakumov, E., & Parnikoza, I. Y. (2015). Determination of thе soil-permafrost border in two maritime Antarctic regions on thе base of vertical electric sounding data. Ukrainian Antarctic Journal, (14), 138-142. https://doi.org/10.33275/1727-7485.14.2015.182
This work is licensed under a Creative Commons Attribution-NonCommercial-NoDerivatives 4.0 International License.
Abstract
The deepness of soil-permafrost layer was measured bу vertical electrical resistivity sounding. It has been revealed that the deepness of active layer оn the Point Thomas oasis , King George lsland is in average about 100-150 cm, while оn the Argentine lslands it is 40-50 cm, which is caused bу climatic conditions. Weak soils of the Argentine Islands are connected to permafrost via the massive rock, while in case of Point Thomas oasis (King-George Island) fine-coarsy gravel soils are underlayed directly bу permafrost.
References
Abakumov, E.V. (2010). Particle size distribution in soils of West Antarctica. Eurasian Soil Science, 43, 297-304.
Abakumov, E.V. (2011). Soils of Western Antarctica. Saint-Petersburg.
Govorukha, L.S. (1997). Short geographical and glaciological characteristic of Argentine Islands Archipelago. Bulletin of the UAC, 1, 17-19.
Hauk, C., Muhl. D.V., & Using, D.C. (1999). Resistivity tomography to detect and characterize mountain permafrost. EAGE 61st Conference and Technical Expedition, Helsinki-Finland, 7-11 June, 1999, 273-284.
Korchagin, I.N., Solovyov, V.D., Bakhmutov, V.G., Levashov, S.P., Yakymchuk, N.A., & Bozhezha, D.N. (2013). New crustal models of Drake Passage and the hydrocarbon reservoir searching in the Antarctic Peninsula continental margin structures (by the 17th Ukrainian Antarctic Expedition results). Ukrainian Antarctic Journal, 12, 21-29.
Korsun, S., Kozeretska, I, Parnikoza, I., Skarivska, L., Lugovska, K., & Klimenko, I. (2008). Effect of natural and anthropogenic factors on the chemical composition of soils of the King George in littoral Antarctic. Agroecological Journal, 4, 45-52.
Kozeretska, I., Parnikoza, I., Abakumov, E., Shvydun, P., &Korsun, S. (2015). The soils of Argentine Islands: diversity of organic matter on the edge of life. 26th International Congress on Polar Research: High latitudes and high mountains: driver or driven by global change? 6-11 September, 2015, Munich, Germany, German Society for Polar Research, p. 86-87.
Magnin, F., Krautblatter, M., Deline, P., Ravanel, L., Malet, E., & Bevington, A. (2015). Determination of warm, sensitive permafrost areas in near-vertical rockwalls and evaluation of distributed models by electrical resistivity tomography. Journal of Geophysical Research, 2015. (in press).
Parnikoza, I., Korsun, S., Kozeretska, I., & Kunakh, V. (2011). A Discussion Note on Soil Development under the Influence of Terrestrial Vegetation at two Distant Regions of the maritime Antarctic. Polarforschung, 80(3), 181-185.
Pozdnyakov, A.I. (2008). Electrical parameters of soils and pedogenesis. Eurasian Soil Science, 10, 1050-1058.
Pozdnyakov, A.I., Pozdnyakova, L.A., & Pozdnyakova, D.A. (1996). Constant Electric Fields in Soils.
Rakusa-Suszewski, S. (2002). King George Islands - South Shetland Islands, maritime Antarctic. In: Beyer and Bolter (Eds.), Geoecology of Antarctic Icefree Coastal Landscapes. Ecological Studies 2002. Springer, Berlin.
Scott, W., Sellmann, P., & Hunter, J. Geophysics in the study of permafrost. In: S. Ward (Ed.), Geotechnical and Environmental Geophysics. Soc. of Expl. Geoph., Tulsa, p. 355-384.
Smernikov, S.A., Pozdnyakov, A.I., & Shein, E.V. (2008). Assessment of soil flooding in cities by electrophysical methods. Eurasian Soil Science, 10, 1059-1065.
Turu I Michels, V., & Ros Visus, X. (2013). Geophysical survey carried out in the Hansbreen glacial front (Hornsund, SW Spitzberguen): Surface Nuclear Magnetic Resonance (SNMR), Magnetic susceptibility of rocks and Electric Resistivity facies: Permafrost identification and subglacial aquifers. IV Congreso Iberico de la J.P.A. Nuria (Vall de Ribes, Pirineo oriental), junio 2013.
Vanhala, H., Lintinen, P., & Ojala, A. (2009). Electrical Resistivity Study of Permafrost on Ridnitsohkka Fell in Northwest Lapland, Finland. Geophysica, 45(1-2), 103-118.