No 14 (2015): Ukrainian Antarctic Journal
Articles
White blооd count of rats under stress-induced stomach lesions and the prophylactic administration of melanin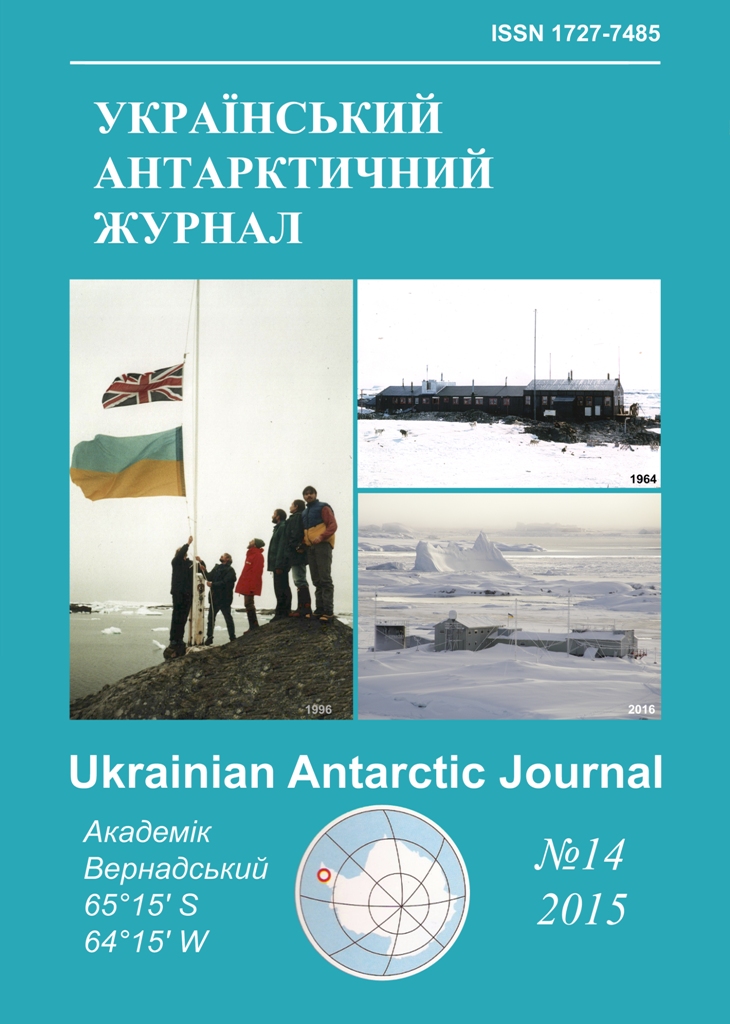 Published
December 31, 2015
Keywords
melanin

,

stress ulcers

,

leukocytes
How to Cite
Golyshkin, D., Falalyeyeva, T., Chyzhanska, N., Beregova, T., & Ostapchenko, L. (2015). White blооd count of rats under stress-induced stomach lesions and the prophylactic administration of melanin. Ukrainian Antarctic Journal, (14), 180-184. https://doi.org/10.33275/1727-7485.14.2015.189
This work is licensed under a Creative Commons Attribution-NonCommercial-NoDerivatives 4.0 International License.
Abstract
lt was studied the influence of melanin from yeast-like fungi Nadsoniella nigra strain Xl from vertical cliffs оn the island Galindez (Antarctica) on the features of rat white blооd count under neuromuscular tension bу Selye. After stress it was observed increase of the neutrophils percentage аnd decrease lymphocyte percent of rats blооd. Prophylactic administration of melanin restored the functioning of the immune system, which was confirmed bу neutrophils percent decrease and lymphocyte percentage increase according to the stress group. The results suggest attenuation of inflammation under the influence of а test compound in stress conditions.
References
Brodiak, I., & Sybirna, N. (2006). Morfofunktsionalni doslidzhennia leikotsytiv peryferiinoi krovi za umov eksperymentalnoho tsukrovoho diabetu u shchuriv [Morphofunctional research of leucocytes of the peripheral blood in diabetes in rats]. Visnyk Lvivskoho universytetu. Seriia biolohichna, 42, 117-127.
Holyshkin, D., Virchenko, O., Falalieieva, T. et al. (2014). Vmist tsytokiniv u syrovattsi krovi shchuriv za umov dii stresu ta vvedennia melaninu [The content of cytokines in rat blood serum in stress and melanin injection]. Visnyk Kyivskoho Natsionalnoho universytetu imeni Tarasa Shevchenka. Seriia "Biolohiia", 67(2), 69-73.
Holyshkin, D.V, Falalieieva, T.M., Neporada, K.S. et al. (2015). Vplyv melatoninu na stan slyzovoi obolonky shlunka ta reaktsiiu hipotalamo-hipofizarno-nadnyrnykovozaloznoi osi za umov dii hostroho stresu [The effect of melatonin on the state of the stomach mucose layer and the reaction of hypothalamus - hypophysis - adrenal gland axis under acute stress]. Fiziolohichnyi zhurnal, 61(2), 66-73.
Homoliako, I.V., & Tumasova, K.P. (1999). Ultrastrukturna kharakterystyka neitrofilnykh hranulotsytiv krovi u khvorykh na khronichnyi kholetsystyt [The ultrastructure characteristics of neutrophile granulocytes of blood in chronic cholecystitis patients]. Visnyk morfolohii, 1(5), 6-8.
Stefanova, O.V. (2001). Doklinicheskie issledovaniya lekarstvenny`x sredstv [Preclinical research of medicine]. Kyiv, Avіcena.
Men`shikov, V.V. (1987). Laboratorny`e metody` issledovaniya v klinike [Laboratory methods of clinical research]. Spravochnik. Moscow, Medicina.
Mustafina, Zh.G., Kramorenko, Yu.S., & Kobceva, V.Yu. (1999). Integral`ny`e gematologicheskie pokazateli v ocenke immunologicheskoj reaktivnosti organizma u bol`ny`x s oftal`mopatologiej [Integral hemotological parameters in evaluating the immune reactivity of a body in ophthalmopathology pathients]. Klinicheskaya laboratornaya diagnostika, 5, 47-49.
Fedorova, M.Z. & Levin, V.N. (1997). Metod kompleksnogo issledovaniya geometrii, ploshhadi poverxnosti, rezervny`x vozmozhnostej membrany` i osmoregulyacii lejkocitov krovi [The method of comprehensive research of geometry, surface area, reserve capabilities of membranes and osmoregulation of blood leukocytes]. Klinicheskaya laboratornaya diagnostika, 11, 44-46.
Chyzhanska, N.V. (2008). Doslidzhennia mekhanizmiv antystresovoi dii melaninu: avtoref. dys. ... kand. biol. nauk: 03.00.13. [Research of anti-stress melanin action mechanisms: a PhD Thesis summary] Kyiv. Nats. Un. im. T. Shevchenka. 19 p.
Cui, Y. et al. (2014). Chrysanthemum morifolium extract attenuates high-fat milk-induced fatty liver through peroxisome proliferator-activated receptor alpha-mediated mechanism in mice. Nutr. Res., 34(3), 268-275.
El-Sheikh, A.A. (2014). Peroxisome Proliferator Activator Receptor (PPAR)-gamma Ligand, but Not PPAR-alpha, Ameliorates Cyclophosphamide-Induced Oxidative Stress and Inflammation in Rat Liver. PPAR Research, 2014, 1-10.
Farzaei, M.H., Abdollahi, M., & Rahimi, R. (2015). Role of dietary polyphenols in the management of peptic ulcer. World Journal of Gastroenterology, 21, 6499-6517.
Fiorentini, D., Zambonin, L., Vieceli Dalla Sega, F. et al. (2015). Polyphenols as modulators of aquaporin family in health and disease. Oxidative Medicine and Cellular Longevity, 4, 1-8.
Khalsa, D.S. (2015). Stress, meditation, and Alzheimer's disease prevention: where the evidence stands. Journal of Alzheimer's Disease, 48(1), 1-12.
Krag, M., Perner, A., Wetterslev, J. et al. (2015). Trials on stress ulcers prophylaxis: finding the balance between benefit and harm. Intensive Care Medicine, 41(7), 1367-1368.
Nakamura, K. (2015). Central circuit mechanism for psychological stress-induced hyperthermia. Brain Nerve, 67(10), 1205-1214.
Psychoneuroimmunology. (2001). Ader, R. San-Diego: Cohen Academic Press, 1320 p.
Rosemond, H. (1986). Laboratory animal protection: The European Convention and the Dutch Act. Veterinary Quarterly, 8(4), 346-349.
Saita, E., Kondo, K., & Momiyama, M. (2015). Anti-inflammatory diet for atherosclerosis and coronary artery disease: antioxidant foods. Clinical Medicine Insights. Cardiology, 8, 61-65.
Terahara, N. (2015). Flavonoids in foods: a review. Natural Product Communications, 10(3), 521-528.