No 14 (2015): Ukrainian Antarctic Journal
Articles
Workflow of Ukrainian National Antarctic Scientific Centre portal modeling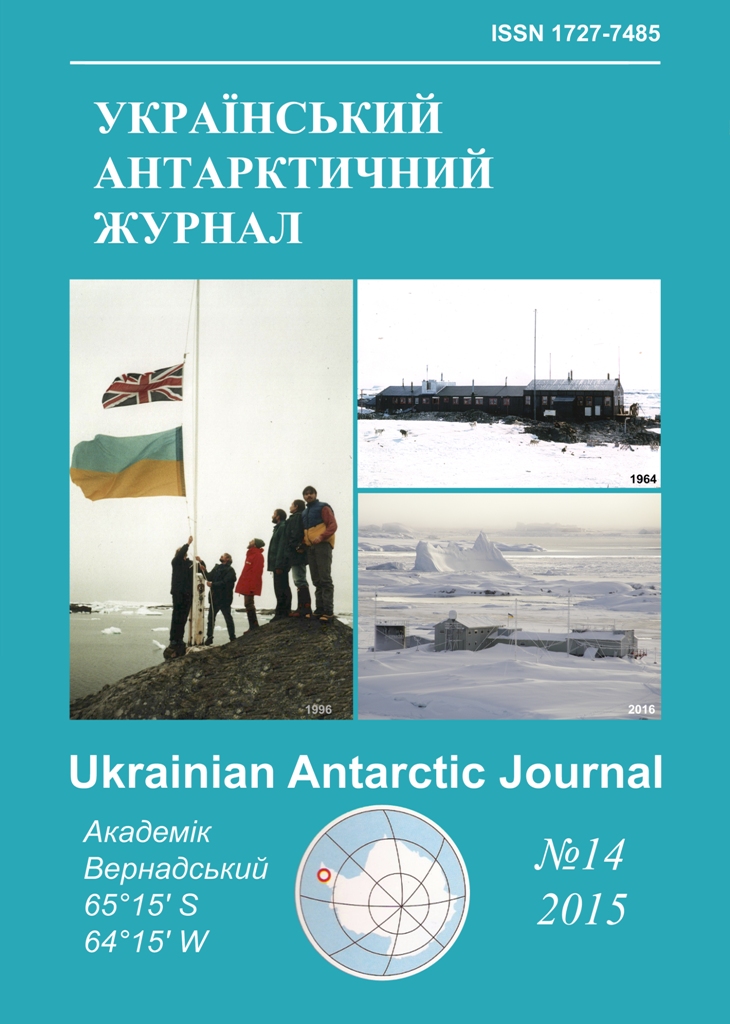 Published
December 31, 2015
Keywords
National Antarctic Scientific Centre of Ukraine portal

,

workflow

,

business process

,

model

,

complex informational distributed system
How to Cite
Globa, L., & Novogryska, R. L. (2015). Workflow of Ukrainian National Antarctic Scientific Centre portal modeling. Ukrainian Antarctic Journal, (14), 229-237. https://doi.org/10.33275/1727-7485.14.2015.196
This work is licensed under a Creative Commons Attribution-NonCommercial-NoDerivatives 4.0 International License.
Abstract
The methodology of workflows automatization in complex information distributed systems is described. Such methodology allows to improve the efficiency of scientists interaction bу automated workflows of data processing description аnd modeling. Such workflows of data processing form the basis of the National Antarctic Scientific Сеntеr activities in the context of the "National Antarctic Data Centre" the development. The model of workflows "NASC data processing" automatization is suggested. As the result the workflow model is received that allows to describe general workflow in the complex informational-communicational distributed environ­ment of National Antarctic Scientific Center of Ukraine.
References
Becker, J., Kugeler, M., & Rosemann, M. (2003). Process Management. A Guide for the Design of Business Processes. Berlin: Springer-Verlag.
ISO's Process Approach. http://www.praxiom.com/process-approach.htm
Business process. http://en.wikipedia.org.wiki/Business_process
Repin, V., & Yelifierov, V. (2013). Processnyj podhod k upravleniyu. Modelirovanie biznes-processov [Process approach to management. Modelling business processes]. Moscow, Mann, Ivanov i Ferber. (in Russian)
Workflow Management Coalition. http://www.wfmc.org (Accessed on 12 November 2015).
Repin, V.V. (2007). Bizness-processy kompanii: postroenie, analiz, reglamentaciya [Business processes of a company: contruction, analysis, reglamentation]. Moscow, RIA Standart i kachestvo. (in Russian)
Workflow Reference Model Diagram. http://www.wfmc/reference-model.html (Accessed on 17 May 2013)
Ryan, K.L., Lee, S.S.G., & Lee, E.W. (2009). Business Process Management (BPM) Standards: a Survey. Business Process Management Journal, 15(5), 48.
Scheer, A.W. (2000). ARIS: business process modeling book. Berlin, Springer-Verlag.
Shchaslyvyi, S.P. (2013). Realizaciia rozpodilenoho workflow dlia obrobky danyh na saiti Nacionalnoho Antarktychnoho Naukovoho Centru [The realization of distributed workflow to process data on the website of the National Antarctic Scientific Center]. S.P. Schastlivyi, L.S. Globa. Zb. materialiv konferencii, tezy: VI Mizhnarodna Antarktychna Konferenciia, Kyiv, May 15-17, 2013. P. 383-385. (in Ukrainian)
Shchaslivyi, S. (2013). Implementation of distributed workflow as an example 'NASC Data Processing'. S.P. Shchaslivyi. Conference Proceeding: X International students conference: innovations in science and technology. Kyiv, April 9, 2013. Part II. P. 60.