No 12 (2013): Ukrainian Antarctic Journal
Articles
New crustal models of Drake Passage and the hydrocarbon reservoir searching in the Antarctic Peninsula continental margin structures (by the 17th Ukrainian Antarctic Expedition results)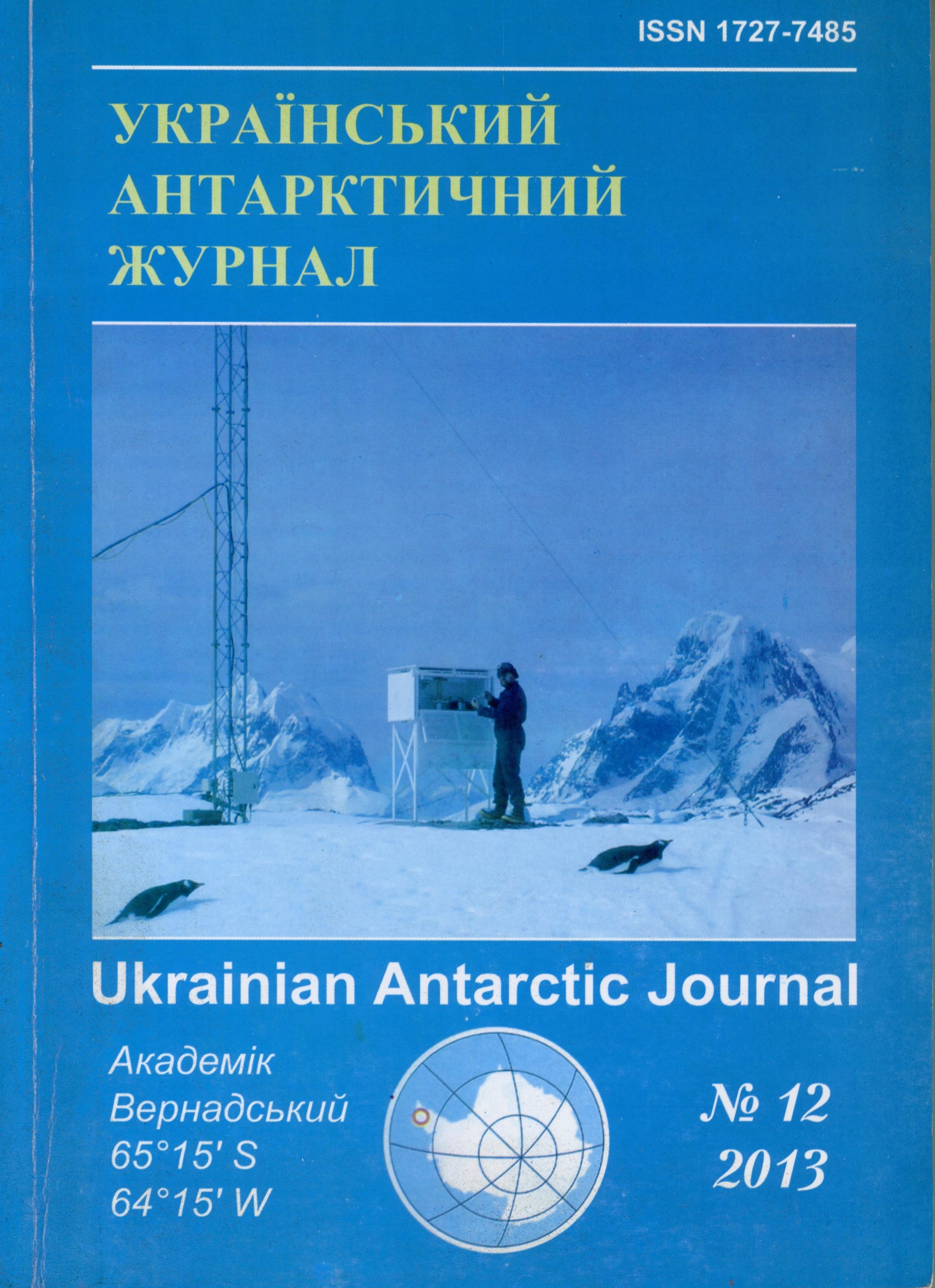 Published
December 15, 2013
This work is licensed under a Creative Commons Attribution-NonCommercial-NoDerivatives 4.0 International License.
Abstract
During the 17th Ukrainian Antarctic Expedition (UAE, 2012) new geophysical data for the West Antarctica bottom structures were obtained. The geophysical investigations included the geoelectric methods of forming a short-pulsed electromagnetic field (FSPEF), vertical electric-resonance sounding (VERS) and the special method of remote sensing (RS) satellite data processing and interpretation. These methods were used for the crustal structure studying and the hydrocarbon accumulations searching in continental margin bottom structures. Detailed geoelectric sections (with depth up to 24km) were constructed for Drake Passage, Scotia Sea and Bransfield Strait tectonic structures as a result of these seasonal works. There are presented some crustal boundaries between stratigraphically heterogeneous layers and deep depth discontinuities. The occurrence of complex fault zones near the coast of South America and the Antarctic Peninsula are showing. Some specific geoelectric boundaries below the Moho presence and the occurrence of possible deep high-temperature zones of rocks may reflect the heterogeneity of Passage bottom structures and available processes of tectonic and magmatic activity with the local areas of modern rifting.
Some anomalies of "oil deposit" type with total area of about 900 km2 and three new anomalous zones of the "deposit of gas hydrates" type were mapped in the UAS "Academician Vernadsky" area. These data support the assumption of the possible existence new oil and gas area in this part of the West Antarctica. The parameters of two anomalous zones of the "deposit of gas hydrates" type with total thickness of 100 - 500m were determined at the continental slope of the South Shetland Islands. The presence of a number of "satellite" anomalous zones beyond the identified anomalies within the BSR-zones shows that gas hydrate reserves of this area are higher than previously calculated.
New detailed data for local gas hydrate accumulations confirm the high potential perspectives of this part of the South Shetland margin and allow attributing it to one of the most promising areas of the Antarctic region.