No 4-5 (2006): Ukrainian Antarctic Journal
Articles
On the fractal mechanism of interactions between the genesis, size and content of atmospheric aerosoles in various areas of the Earth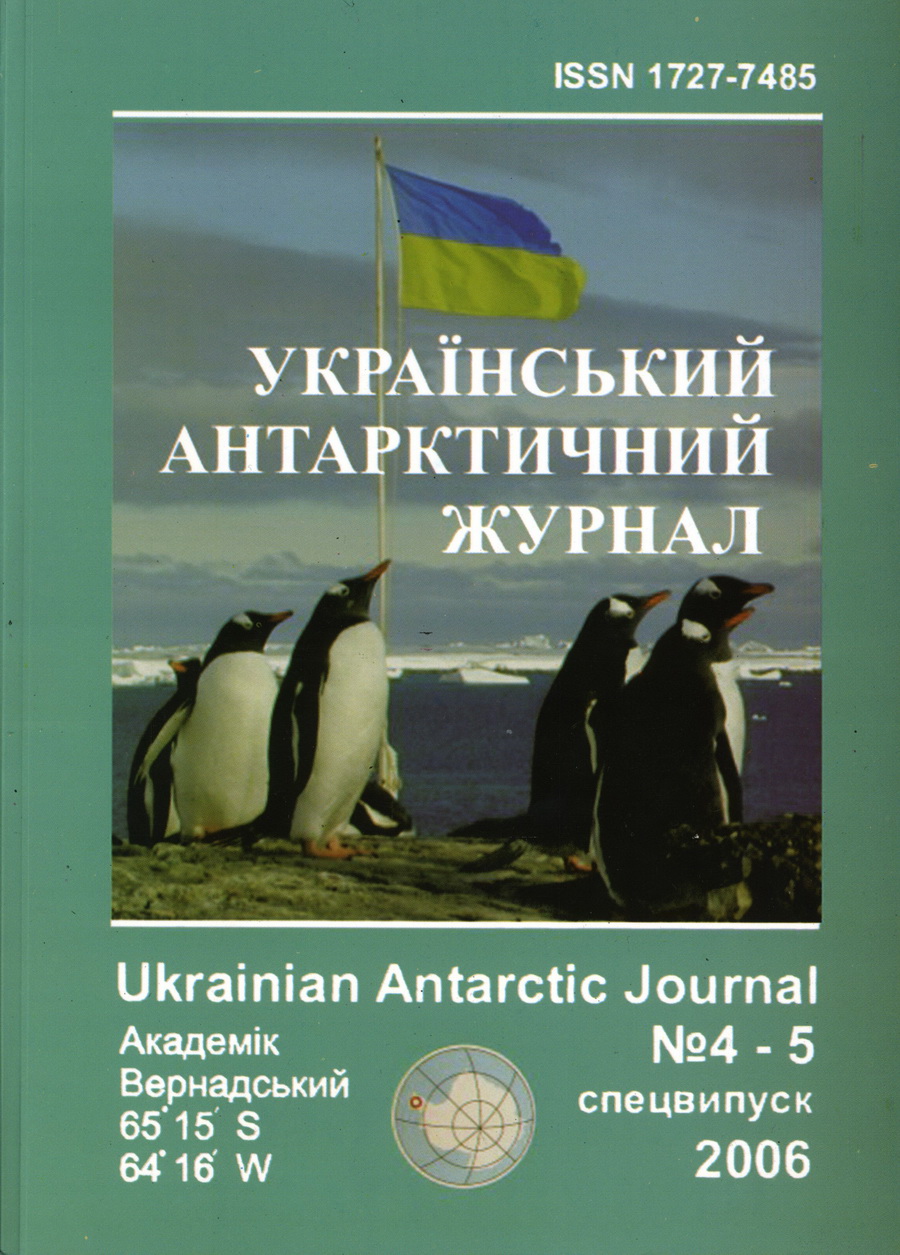 Published
December 15, 2006
Abstract
We discuss experimental data of the National Aerial Survey Net (NASN) of Japan in 1974-1996 and independent experiments done simultaneously in Ljubljana (Slovenia), Odessa (Ukraine) and the Ukrainian Antarctic Station Akademik Vernadskiy (64°15; 65°15) in which the traditional method of fixation of atmospheric aerosoles on nuclear filters and k0-instrumental neutron-activation analysis were used to determine the concentration composition of atmospheric air.
Comparative analysis of different pairs of experimental spectra of normalized concentrations of the elements of atmospheric aerosole measured in various areas of the Earth shows a stable linear (logarithmically) correlational dependence which suggests a power law of increase in mass (volume) of every element of the atmospheric aerosole and simultaneously the reason for the growth - the fractal nature of the genesis of the atmospheric (secondary) aerosoles.
In the framework of multifractal geometry it was shown that the distribution of the isotopic components of the secondary aerosole on the normalized masses (volumes) followed the lognormal distribution which at the logarithmic scale relative to a random variable (the isotopic component mass) is identical to a normal law. This means that the parameters of two-dimensional normal distribution relative to the corresponding isotopic component of aerosolic particles-multifractals measured in different areas are apriori linked by forward and reverse linear regression.
These linear regressions were shown to result in experimentally observed linear (at a logarithmic scale) correlations between the normalized concentrations of the same isotopic components of the experimental spectra of normalized concentrations of the atmospheric aerosole's elements registered in various locations.
It was theoretically shown how solving a system of non-linear equations uniting the first moments (the mean and the variance) of the lognormal and normal distributions can reestablish the multifractal function f(α) and the spectrum of fractal dimentions Dq of an individual aerosol particle which are global characteristics of the genesis of the atmospheric (secondary) aerosole and do not depend on where they were registered.