No 4-5 (2006): Ukrainian Antarctic Journal
Articles
The analysis of sensitivity magnitude of a seismic complex established on Vernadsky station for seismic events from Sandwich islands area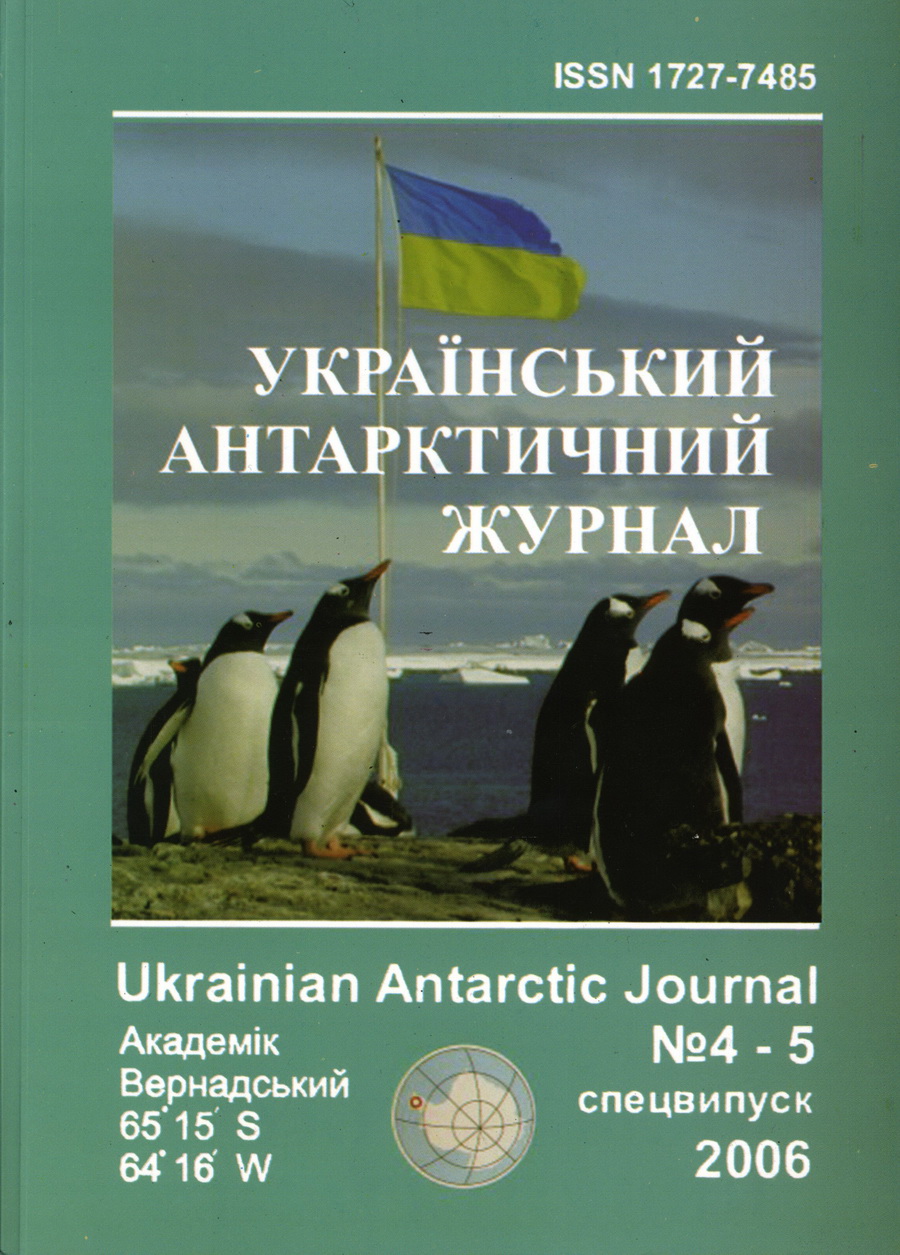 Published
December 15, 2006
Abstract
The results of the analysis of sensitivity magnitude of a seismic complex established at Verrnadsky station are considered. The concept of a threshold magnitude, as a rating of an opportunity of revealing of seismic events from concrete region is entered. The results of the analysis of sensitivity magnitude for Sandwich Islands area are given.
References
Savarenskij, E.F., & Kirnos, D.P. (1955). E`lementy` sejsmologii i sejsmometrii. [Elements of seismology and seismometry]. Moscow, GITL.
Rautian, T.G. (1969). Ob e`nergii zemletryasenij na rasstoyanii do 3000 km. [On the energy of earthquakes at a distance of up to 3000 km]. Tr. IFZANSSSR, 32(199), 88–93
Kedrov O.K. (2005). Sejsmicheskie metody` kontrolya yaderny`x ispy`tanij. [Seismic methods of control of nuclear tests]. Moscow, «Kras. Okt.».
Kogan, S.Ya. (1975). Sejsmicheskaya e`nergiya i metody` ee opredeleniya. [Seismicen ergy and methods for its determination]. Мoscow, Nauka.
Xalturin, V. I. (1974). Sootnosheniya mezhdu magnitudny`mi opredeleniyami, ozhidaemy`einablyudaemy`e. [Relationships between magnitude determinations, expected and observed]. Magnituda i e`nergeticheskaya klassifikaciya zemletryasenij, 1, 145–153.