No 4-5 (2006): Ukrainian Antarctic Journal
Articles
Human adaptation in Antarctic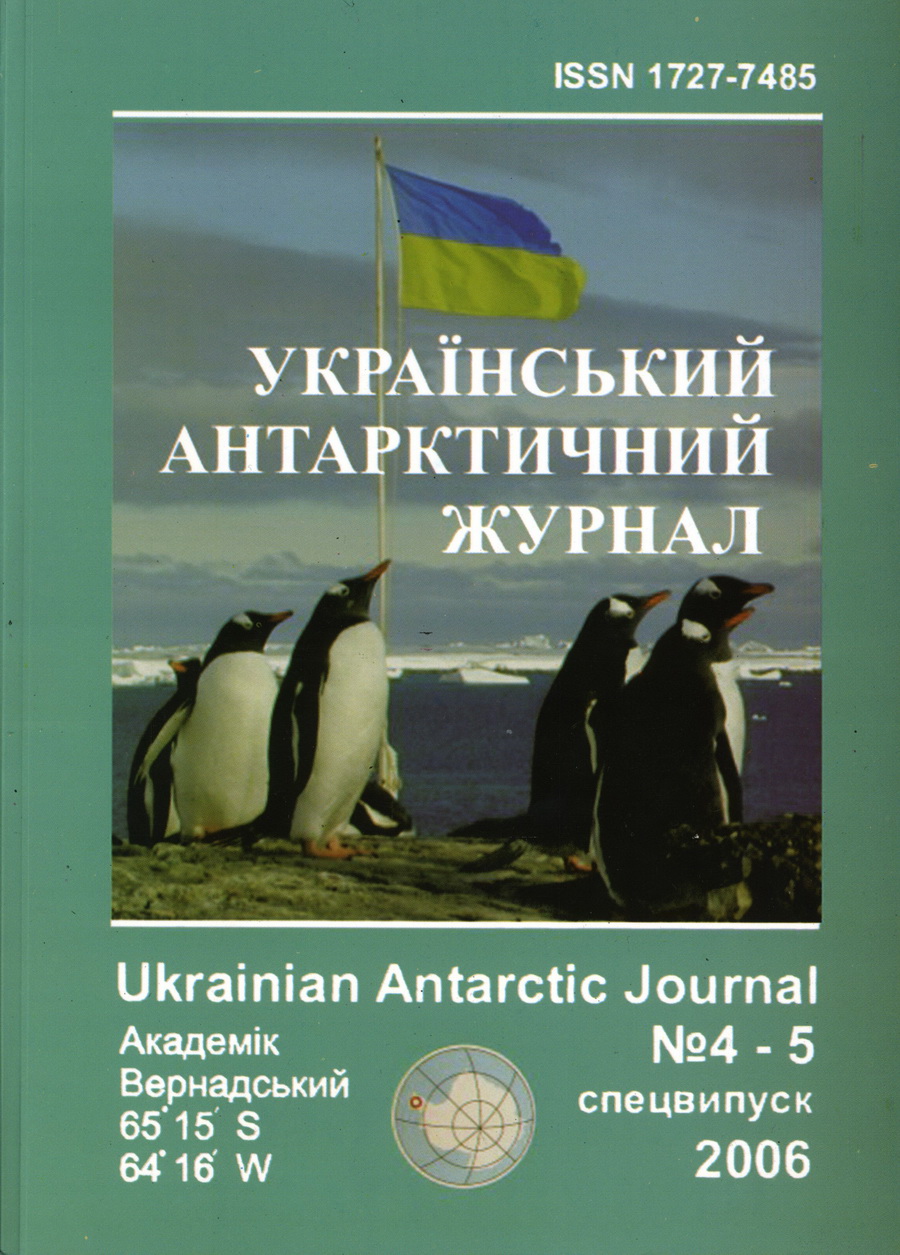 Published
December 15, 2006
Abstract
People adaptation problem in Antarctic conditions is not insolvable up to now and is the base of medical-biological researches. The purpose of this study was to find out peculiarities in the function of the psychic-physiological and the external respiration and circulation of the human while having a long-term stay under the conditions of Antarctic station.
References
Kolchinskaya, A. Z., Ciganova, T. N., & Ostapenko, L. A. (2003). Normobaricheskaya interval`naya gipoksigeskaya trenirovka v medicine i sporte. [Normobaric interval hypoxic training in medicine and sports]. Moscow. Medicina.
Mankovska, I.M., Moiseienko, Ye.V., Demchenko, M.P., Dosenko, V.Ie., Zubkova, S.T., Varhatyi, S.Ia., & Muzychenko, T.I. (2005). Osoblyvosti perebudov funktsionalnoi systemy dykhannia liudyny pislia tryvaloho perebuvannia v umovakh. Antarktyky. [Features of reorganization of the functional system of human respiration after a long stay in conditions. Antarctica]. Fiziolohichnyi zhurnal, 53(3), 25–31.
Moiseienko, Ye.V. (2003). Medyko-biolohichni doslidzhennia vchenykh Ukrainy v Antarktytsi. [Medical and biological research of Ukrainian scientists in Antarctica]. Fiziolohichnyi zhurnal, 49(3), 70–74.
Moiseienko, Ye.V. (2005). Vymohy do stanu zdorovia ta medychnoho obstezhennia fakhivtsiv ekspedytsiinoi diialnosti Ukrainskoi natsionalnoi antarktychnoi prohramy. [Requirements for the state of health and medical examination of specialists of expedition activities of the Ukrainian National Antarctic Program]. Metodychni rekomendatsii, Kyiv.
Aleksandrov, Yu.I. (Ed.). (2004). Psixofiziologiya. [Psychophysiology]. Uchebnik dlya vuzov 3-eizd., dop. i pererab. SPb. Piter.