No 16 (2017): Ukrainian Antarctic Journal
Articles
SEASONAL CHANGES OF THE MORPHO-BIOLOGICAL CHARACTERISTICS OF BLACK ROCKCOD NOTOTHENIA CORIICEPS (NOTOTHENIIDAE) IN THE ARGENTINE ISLANDS ARCHIPELAGO REGION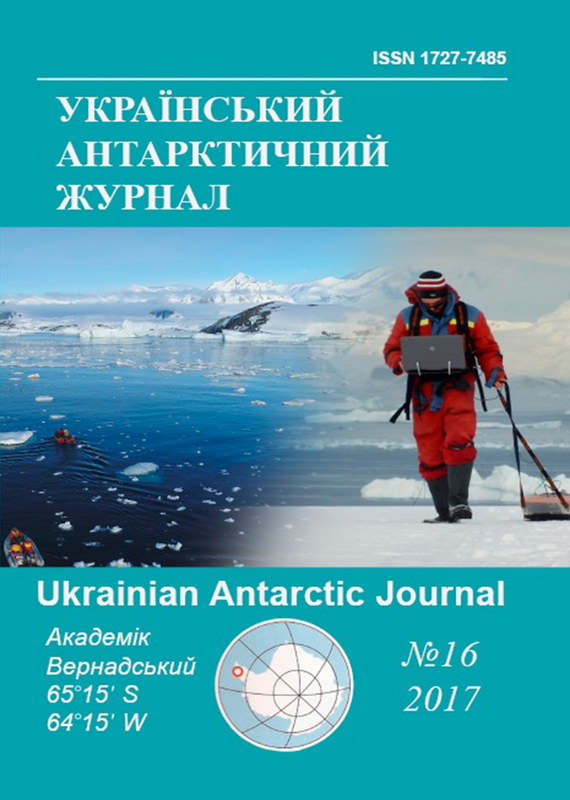 Keywords
Notothenia coriiceps

,

ichthyology

,

Argentine Islands Archipelago

,

Antarctica
This work is licensed under a Creative Commons Attribution-NonCommercial-NoDerivatives 4.0 International License.
Abstract
Black rockcod Notothenia coriiceps (Nototheniidae) is one of the common fish species of the Argentine Islands Archipelago region, and it is very common in the Southern Ocean waters. So, objective of the original research was to study the seasonal changes of biological characteristics of N. coriiceps individuals. The material was collected during the XII Ukrainian Antarctic Expedition in 2007-2008 using classical methods, specifically by the bottom gear in the ice-free water places from the boat and from the shore, and in winter also from the ice. Pieces of fresh meat and fish were used as bait for gear. The catches were carried out at the depths from 10 to 50 m (mainly at depths of 20-30 m). Result The majority of black rockcod has a standard length of 26,0-30,0 cm (45,3%) and the age of 4-5 full years (84,5%). During the year, the majority of individuals has II stage of development of the gonads (82,9%), however the number of individuals whitch have III and over stage of development has gradually increased from October to January. It was detected that the main diet components of N. coriiceps in the Argentine Islands Archipelago region were fish and crustaceans rarely – mollusks. Two size groups (>25 cm and <25 cm) of black rockod had the same feeding components ratios. In the majority of individuals (67,7%), the gastrointestinal tract was filled poorly (0-1 point). Fat content during the year was predominantly 2-3 points (94,3%). The value of cardiosomatic index during the year has gradually increased from 0,181±0,008 in April to 0,283±0,005 in September and has again decreased to 0,182±0,003 in December. The value of hepatosomatic index has decreased from 2,11±0,10 in April to 1,58±0,06 in November. In December and January the index has increased to 2,66±0,57. The value of fatness by Fulton has decreased from 1,89±0,06 in April to 1,60±0,03 in September, in January it has increased to 1,86±0,52. Conclusions: the character of feeding and development stage of N. coriiceps in the region of the material collection has matched with data from the other researches of the other Antarctic Peninsula regions. In the majority of representatives (66,7%), the gastrointestinal tract was poorly filled (0-1 point), and fat content during the year was predominantly 2-3 points (94,3%). The biological features of N. coriiceps were characterized by the seasonal dynamics, that was associated with the feeding in summer and small amount of food in winter.
References
Alexienko, V. R., Podobailo, A. V. 1998. Metodichni vkazivki do vyvchennia ikhtioligii (rozdil: «Morfometrychnyi analiz ryb») [Methodological guidelines for the study of ichthyology (chapter: «Morphometric analysis of fish»)]. Kiev :«Kyivskyi universytet».
Barrera-Oro, E. 2002. The role of fish in the Antarctic marine food web: differences between inshore and offshore waters in the southern Scotia Arc and west Antarctic Peninsula. Antarctic Science, 14 (4), 293-309. https://doi.org/10.1017/S0954102002000111.
Casuax, R., Barrera-Oro, E., Baroni, A., Ramon, A. 2003. Ecology of inshore notothenioid fish from the Danco Coast, Antarctic Peninsula. Polar Biol., 26, 157-165. DOI: 10.1007/s00300-002-0463-y.
Casaux R., Barrera-Oro E. 2013. Dietary overlap in inshore notothenioid fish from the Danco Coast, western Antarctic Peninsula. Polar Research, 32 (1), 1-8. https://doi.org/10.3402/polar.v32i0.21319.
Everson, I. 1970. The population dynamics and energy budget of Notothenia neglecta Nybelin at Singy Island, South Orkney Islands. British Antarctic Survey Bulletin, 23, 25-50.
Fischer, W., Hureau, J. 1986. FAO species identification sheet for fishery purposes: Southern Ocean (Fishing areas 48, 58 and 88) (CCAMLR Convention Area). Rome: FAO.
Gon, O., Heemstra, P. 1990. Fishes of the Southern Ocean. Grahamstown: J.L.B. Smith Institute of Ichthyology. https://doi.org/10.5962/bhl.title.141868.
Iken, K., Barrera-Oro, E. R., Quartino, M. L., Casaux, R. J., Brey, T. 1997. Grazing by the Antarctic fish Notothenia coriiceps: evidence for selective feeding on macroalgae. Antarctic Science, 9(4), 386-391. https://doi.org/10.1017/S0954102097000497.
Kafanova, V.V. 1984. Metody opredelenia vozrasta i rosta ryb: uchebnoe posobie [Methods for determining the age and growth of fish: tutorial]. Tomsk: Tomsk State University.
Klein, R. D., Borges, V. D., Rosa, C. E., Colares, E. P., Robaldo, R. B., Martinez, P. E., Bianchini, A. 2017. Effects of increasing temperature on antioxidant defense system and oxidative stress parameters in the Antarctic fish Notothenia coriiceps and Notothenia rossii. Journal of Thermal Biology, 68, 110-118. https://doi.org/10.1016/j.jtherbio.2017.02.016.
Lakin, G. F. 1990. Biometria: uchebnoe posobie [Biometric: tutorial]. Moscow: «Vysshaia shkola».
Manilo, L. G. 2006. Ichthyofauna and Morphobiological Characteristic of Mass Fish Species of Coastal Waters of Argentine Islands (Antarctica). Zbirnyk Prats' Zoologichnoho Muzeyu, 38, 5-22. [Proceedings of the Zoological Museum] 38, 5-22 Available online: http://museumkiev.org/zoo/catalog/zz_38/38_2006_All_PDF.pdf [Accessed 08 June 2017].
Postlethwait, J. H., Yan, Y. L., Desvignes, T., Allard, C., Titus, T., Le François, N. R., Detrich, H.W. 3rd. 2016. Embryogenesis and early skeletogenesis in the antarctic bullhead notothen, Notothenia coriiceps. Developmental Dynamics, 245(11), 1066-1080. https://doi.org/10.1002/dvdy.24437.
Pravdin, I. F. 1966. Rukovodstvo po izucheniu ryb [Guidelines of the study of fish]. Moscow: Pishchevaia promyshlenost.
Trokhymets, V. M., Tymofyeyev, V. A., Perechrest J.S. 2010. The fish fauna of the Argentine Islands region (Antarctica 12 UAE 2007-2008) and morphometrical changeability of Notothenia coriiceps (Richardson, 1844). Ukrainian Antarctic Journal, 6, 206-214. http://dspace.nbuv.gov.ua/bitstream/handle/123456789/128417/20-Trokhimets.pdf .