No 16 (2017): Ukrainian Antarctic Journal
Articles
ANALYSIS AND IMPROVEMENT OF THE NASC UNIFIED INFORMATION ENVIRONMENT INFRASTRUCTURE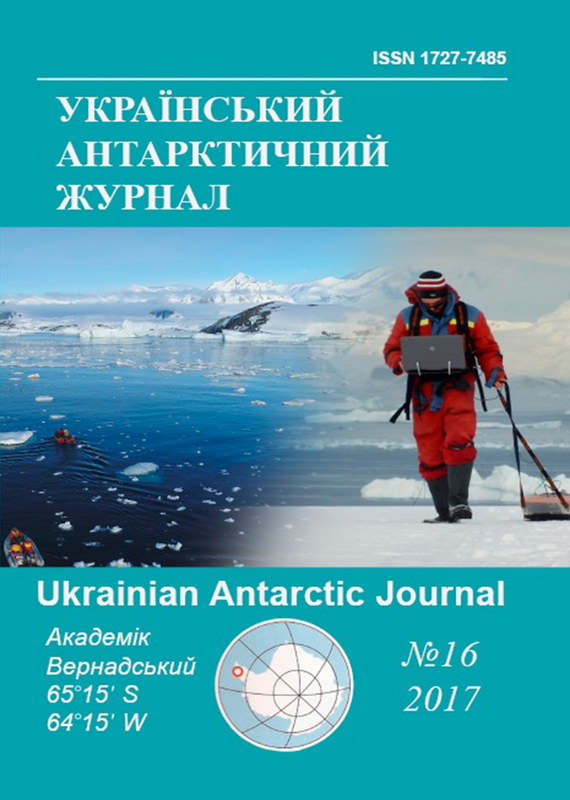 This work is licensed under a Creative Commons Attribution-NonCommercial-NoDerivatives 4.0 International License.
Abstract
The paper deals with the current infrastructure of the data storage system and the Рortal of the State Institution National Antarctic Scientific Center, Ministry of Education and Science of Ukraine (SI NASC). The Antarctic data warehouse is an environment that allows you to store and access all primary ("raw" data) and secondary (research results) data. Such a repository is the core of the National Center for Antarctic Data (NCAD). Possible technical solutions for improving the current architectures of the data warehouse and the NASC Рortal were considered. A comparative analysis of various architectures for constructing (improving) the Рortal has been carried out. Recommendations for upgrading the current infrastructures of data warehouse systems and the Рortal are described. As a result of the analysis of the existing technical solutions for storage and display in the NCAD, it was proposed to improve the architecture of the NASC unified information environment (UIE) infrastructure, which will increase the availability, fault tolerance, speed, scalability and security of data storage and processing.
References
Globa, L. S., Nakonechniy, V.M., Novogrudskaya, R.L., Privar, O.O. 2015. Optymizatsiia funktsionuvannya portalu NANTS pry roboti z heterogennymy danymy [Optimization of operational portal NASC when dealing with heterogeneous data]. VІI Word Antarctic Conference "Antarctic Dossiers: New Horizons and Priorities". Kyiv. 101.
Globa, L.S., Kuzin, I.A., Mochalkina, K.S, Novogrudskaya, R.L. 2012. TekModel Internet-portala Natsionalnogo Tsentra Antarkticheskih Dannyih. Prikladnyie intellektualnyie sistemyi, osnovannyie na semanticheskih setyah [Development of a United Antarctic research Data information environment. Applied intelligent systems based on semantic networks]. Tr. Intern. Conference OSTIS-2012. Minsk. 501-506.
Globa, L.S. Moroz, І. V., Novogrudskaya, R.L., Mochalkina, K.S., Kuzin., I.O. 2011. Cozdanie edinogo informatsionnogo prostranstva dannyih antarkticheskih issledovaniy [Creation of a common information space for Antarctic research data]. Ukrainskij Antarktychnij Zhurnal [Ukrainian Antarctic Journal], 10, 343-351.
Novogrudska, R.L., Dermanska N. V. 2015. Sistemniy pidhid do modelyuvannya portalu «Natsionalniy tsentr antarktichnih danih» [System approach for modeling of the National Center of Antsrctic Data portal]. Ukrainskij Antarktychnij Zhurnal [Ukrainian Antarctic Journal], 14, 238-245.
Novogrudska, R.L., Feday Y.I. 2016. Informatsiyno-komunikatsiyne seredovische spivrobitnika NANTs Development of staff information-communication environment for State National Antarctic Center]. X International Scientific and Technical Conference "Problems telecommunication 2016". Kyiv. 375-377.
Cloud storage, available at: https://en.wikipedia.org/wiki/Cloud_storage.
Microsoft SharePoint 2013, available at: http://technet.microsoft.com/en-us/library/cc303422.aspx.