No 4-5 (2006): Ukrainian Antarctic Journal
Articles
New representatives of Pseudomonas genus from Antarctic soils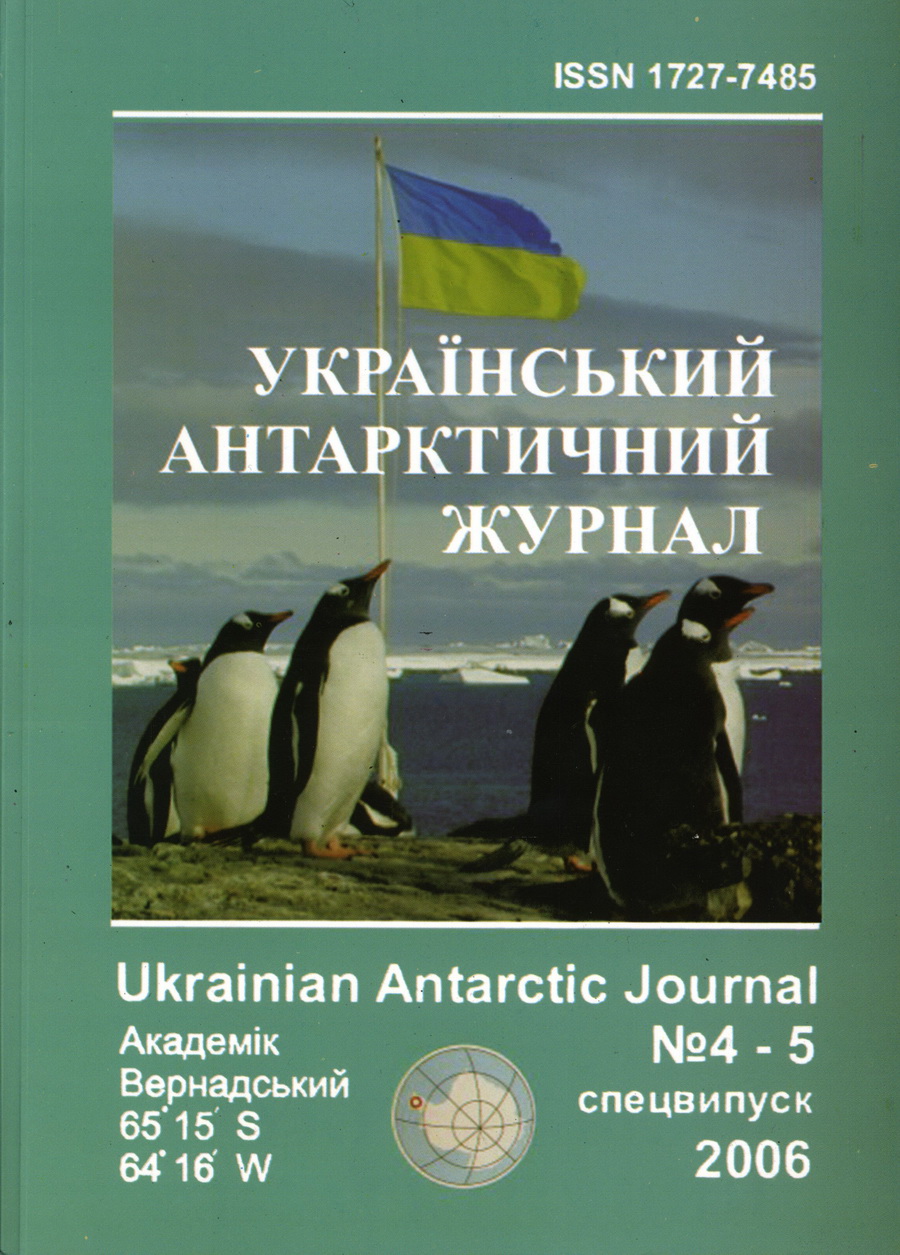 Published
December 15, 2006
Keywords
Antarctic

,

fluorescent bacteria of Pseudomonas genus

,

16 S rRNA sequence
Abstract
59 strains of pseudomonads have been isolated from soil, moss and silt of Galindes, Piterman and Deseption islands. 113 phenotypic characteristics were studied for these strains and using computer analysis 25 strains were identified as representatives of Pseudomonas fluorescens biovar V, 22 – as P.putida biovars A and B, 2 – as P. alcalifilai. Results of 16 S rRNA sequence and phenotypic analysis allowed to identify 8 antarctic isolates as P.veronii and P. fragi and have shown belonging of 2 non-identified strains to P. fluorescens – complex. Obtained data give evidence, that Antarctic bacteria include both the widespread and exotic, probably new species of pseudomonads.
References
Anzai, Y., Kim, H., Park, J.Y., Wakabayashi, H., & Oyaizu, H. (2000). Phylogenetic affiliation of the pseudomonas based on 16S rRNA sequence. Int. J. Syst. Evol. Microbiol., 50(4), 1563–1589.
Bowman, J.P., McCammon, S.A., Brown, M.V., Nichols, D.S., & McMeekin, T.A. (1997). Diversity and Association of psychrophilic bacteria in Antarctic sea ice. Appl. Environ. Microbiol., 63(8), 3068–3078.
Obata, H., Muryoi, N., Kawahara, H., Yamade, K., & Nishikawa, J. (1999). Identification of a novel ice-nucleating bacterium of Antarctic origin and its ice nucleation properties. Cryobiology, 38, 131–139.
Smirnov, V.V., & Kiprianova, E.A. (1990). Bakterii roda Pseudomonas. [Bacteria of the genus Pseudomonas]. Kyiv. Naukova dumka. pp. 220–230.
Koczoflyak, O.I., Reva, O.N., Kiprianova, E.A., & Smirnov, V.V. (2003). Identifikaciya bakterij roda Pseudomonas metodami komp`yuternogo analiza. [Identification of bacteria of the genus Pseudomonas by computer analysis methods]. Mikrobiol. Zhurn., 65(6), 3–12.