No 4-5 (2006): Ukrainian Antarctic Journal
Articles
Prognostication of effectiveness of functioning of specialists in condition of group isolation on basis of analysis of typical behavior patterns as well as degree of group's unity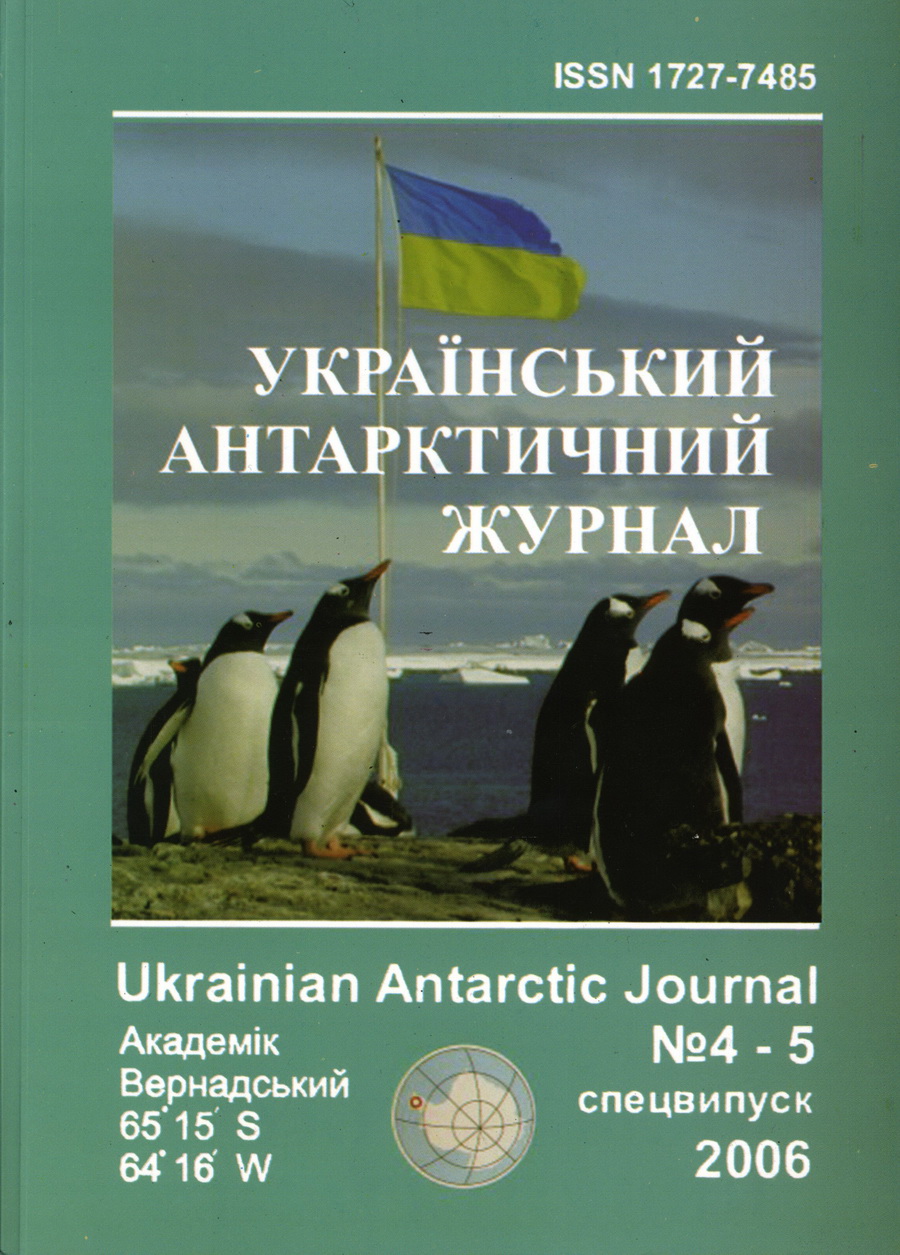 Published
December 15, 2006
Keywords
coping strategies

,

group isolation

,

personality and social effectiveness

,

team-work
Abstract
This research was focused on studying of coping strategies of some groups of specialists and on determinating a degree of group's unity for prognostication of their ability to functioning in conditions of group isolation. Evaluation of group behavior patterns was performed with using of method elaborated by S. Rosenzweig and standard processing of data obtained. Data obtained have allowed to make conclusion about more successful functioning of specialists of the thirst group, so long as they are conscious of their responsibility for difficulties arisen. They are directed to broadening of set of patterns of problem-oriented coping as well as to opposition to complications of life. They are oriented to forming of more expressed resistibility to circumstances as well as more expressed competence and confidence in various communicative situations and strengthening of own psychological well-being. Representatives of another groups are more anxious, various forms of defensive behavior are typical for them, as follows: reactions of destructive aggression in conflict situation, emotional fixation on problem in combination with disability to comprehend of it, insufficient self-criticism. These forms of defensive behavior as well as insufficient own activity directed to solving of problems arisen are able to provoke not only escalation of conflict begun but forming of neurotic and psychosomatic symptoms. Everything named above, in their turn, are able to hinder effective team-work of specialists belonging to these groups.
References
Bodalev, A., & Stolin, V. (1987). Obshhaya psixodiagnostika. [General psychodiagnostics ]. Moscow, Izd-vo MGU.
Grishina, N. (1981). K voprosu o predposy`lkax konfliktnogo povedeniya. [To the question of the prerequisites for conflict behavior]. Psixicheskie sostoyaniya. Leningrad, 90–96.
Nartova-Bochaver, S. K. (1997). «Coping behavior» v sisteme ponyatij psixologii lichnosti. [«Coping behavior» in the system of concepts of personality psychology]. Psychological journal, 18(5), 20–30.
Tarabrina, N. (1994). Texnika izucheniya reakcij na frustriruyushhuyu situaciyu. [Technique for studying reactions to a frustrating situation]. Inostrannaya psixologiya, V 2, 2(4), 68–76.
Breakwell, G. (1986). Coping with threatened identities. Leningrad, N.E., Mithuen.
Carver, C., Scheier, M., & Weintraub, J. (1989). Assessing Coping Strategies: A theoretically based approach. J. Pers. And Soc. Psychol., 56, 267–283.
Haan, N. (1977). Coping and Defending. N.Y.
Holmes, J., Stevenson, C. (1990). Differential Effects of Avoidant and Attentional Coping Strategies on Adaptation to Chronic and Recent-Onset Pain. Health Psychol., 9(5), 433–445.
Krosnick, J. (1994). Response Strategies for Coping with the Cognitive Demands of Attitude Measures in Surveys. Appl. Cogn. Psychol., 5(3), 213–236.
Lazarus, R., Folrman, S. (1984). Stress, appraisal, and coping. N.Y.,
Lewin, K. (1977). Resolving Social Conflicts: Selected Papers on Group Dynamics. London, Souvenier Press.
Nakano, K. (1991). Coping strategies and psychological symptomps in a Japanese sample. J. Clin. Psychol., 47(3), 346–350.
Nakano, K. (1991). The role of coping strategies on psychological and physical well-being. J. Psychol. Res., 33(4), 160–167.
Parkes, K. (1984). Locus-of-control, cognitive Appraisal, and coping in stressful situations. J. Pers. and Soc. Psychol., 46, 655–668.
Pearlin, L., & Schooler, C. (1978). The structure of coping. J. Health and Soc. Behav., 19, 2–21.
Petrovsky, M., & Birkimer, J. (1991). The relationship among locus of control, coping styles, and psychological symptom reporting. J. Clin. Psychol., 47(3), 336–345.
Sek, H. (1991). Life stress in various domains and perseived effectiveness of social support. Polish Psychol. Bull., 23(3), 151–161.
Terry, D. (1991). Coping resources and situational appraisals as predictors of coping behavior. Pers. Individ. Diff., 12(10), 1031–1047.
Vitaliano, P. et al. (1990). Coping Profiles Associated With Psychiatric: Physical Health, Work, And Family Problems. Health Psychol., 9(3), 348–376.
Weber, H. (1992). Belastungsverarbeitung. Z. Fur Klinische Psychologie, B.21(1), 17–27.
Zeidner, M., & Hammer, A. (1990). Life events and coping resources as predictors of stress symptome in adolescents. Pers. Individ. Diff., 11(7), 693–703.